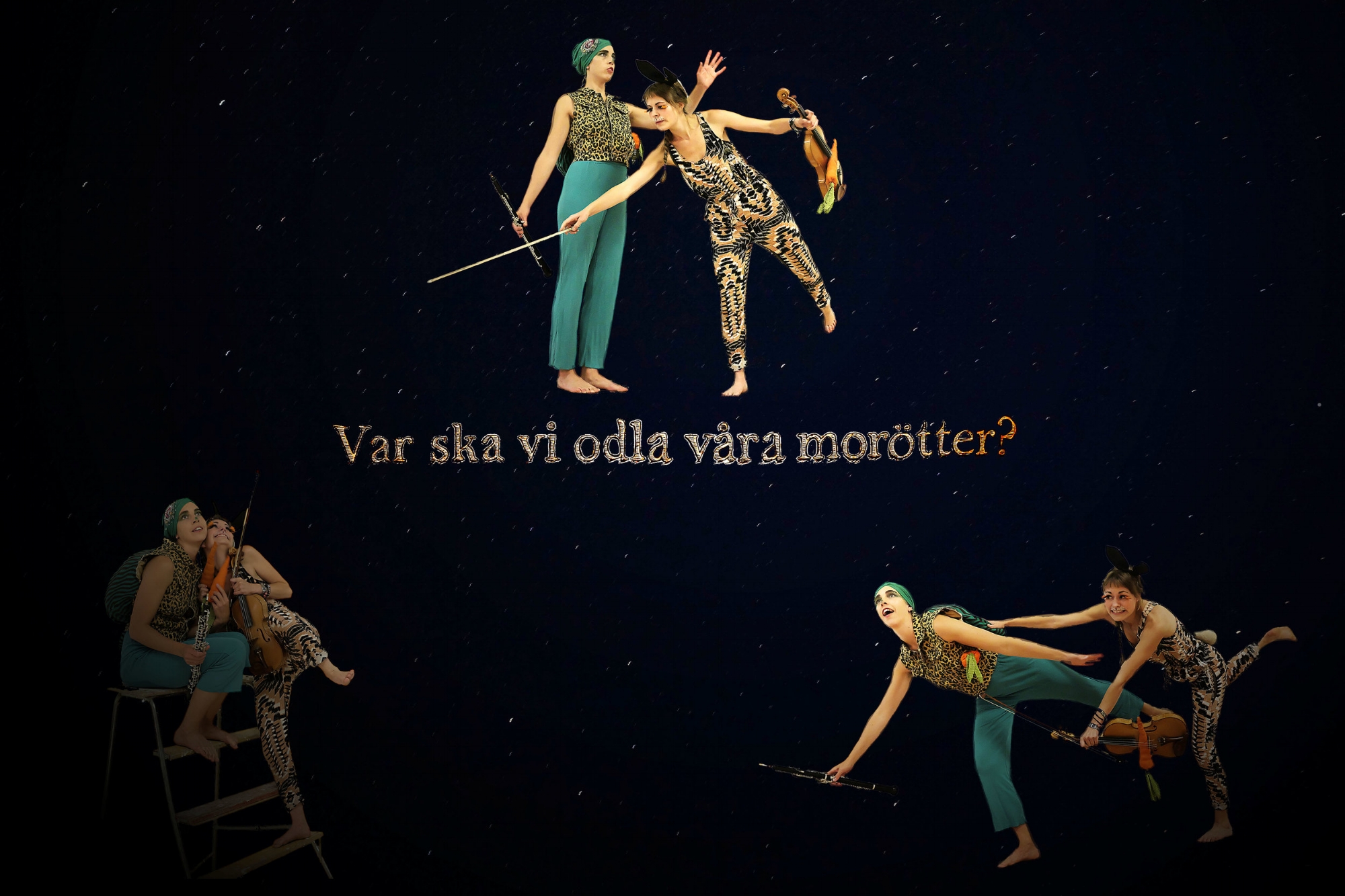 Paraden
Möt musikaliska sagoduon och bästa vännerna Haren och Sköldpaddan på deras äventyr med alltifrån tidstjuvar och stresshantering till morotsland och världsresor. Paradens första föreställning I tid & otid hade premiär på Korrö Folkmusikfestival år 2014 och har sedan dess spelats flitigt i Sverige samt turnerat i samarbete med Musik i Syd och ingått i deras utbudskatalog 2015/16.
Våren 2016 hade Paraden premiär med nya föreställningen Var ska vi odla våra morötter?, denna produktion fick turnéstöd för våren 2016 av Kulturrådet samt blev subventionsstöds berättigad av Skånes Riksteater fr.o.m. hösten 2017.
Klicka gärna in på Paradens hemsida för mer information, musik, filmade föreställningar och blogg!
ENGLISH
Paraden consists of the dynamic best friend music duo The Hare (Frida Höfling) and The Tortoise (Emma Swensson). Paraden invites you to adventures travels in a fantasy world with flying magic-umbrellas, time-thieves, melodious - interactive - songs, humour and moving music of oboe, violin, voice, cow-horn, kalimba and english horn. Paraden mixes original tunes with traditional folk music from Sweden, and more, in exciting, sad, silly, sweet, bold, funny and storytelling arrangements for duo.
Paraden had premier at Korrö Folk Music Festival in 2014 with their first show I tid & otid (translation In time and not on time). Between year 2014 to 2016 In time and not on time toured in Sweden and the project got funding from the department of culture in Sweden and Musik i Syd. In spring 2016 Paraden premiered with the music theatre Where should we grow our carrot?. This production received tour support by the Culture Council of Skåne, Sweden and toured in Sweden during 2016 and 2017. At the moment Paraden only has available shows in swedish language, however the music is universal and hopefully an performance that is not bound by language will come out in 2020. Click on the links below to read more in swedish!